The journey from Prague only takes 1 hour and a bit and then you can dive into the benign atmosphere of south bohemian countryside, where you can experience many wonderful moments with you family or during varied events our hotel hosts all the time. In the space of baroque homestead Malé Chrášťany no.4 since 1850 and baroque homestead Malé Chrášťany no.5 since 1856, a wellness hotel was built with the accommodation capacity of 54 beds. Both homesteads are like the jewels of south bohemian baroque period, protected by the monument institute. From the outside, the hotel will enthral you by its ancient architecture of rural baroque and from the inside then, by its design, original interior a spacious garden with the area of 10 000 m2 with 2 natural ponds.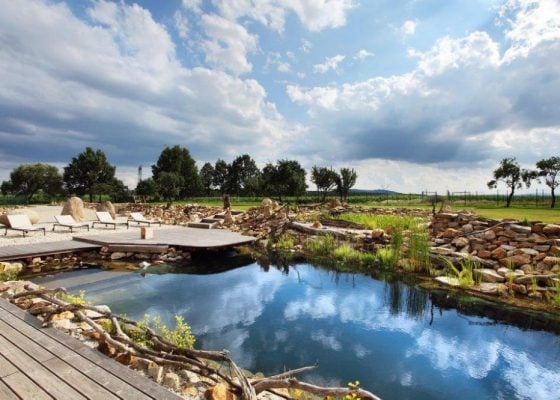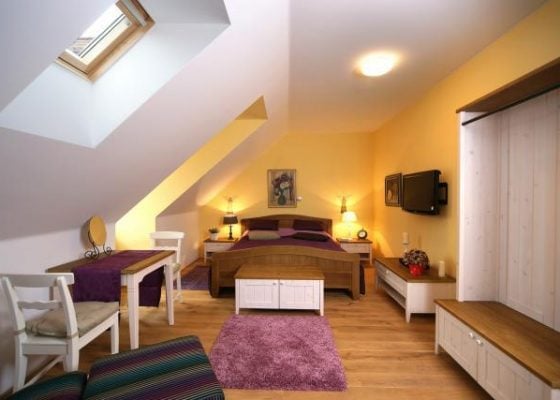 Design rooms
Accommodation
We offer our guests accommodation in all of our rooms and apartments. On the first floor of the main building (former barn), there are 6 luxuriously furnished and spaciously designed exclusive rooms with panoramic view to the landscape. In the historical, monumentally protected homestead no. 4 since 1850 (Boží Oko 1 – white, blue and pink facade) there are 6 stylishly furnished comfort rooms. Next to these rooms is a separate villa, a reconstructed house originally used as granary but now a 3 floor luxurious apartment with its own entrance.
In the historical residential part, again monumentally protected, lies a homestead no. 5 since 1856 (Boží Oko 2 – pink, blue and white facade) there are 5 more stylishly furnished rooms, each uniquely designed.
Quality Gastronomy
Restaurant:
Our restaurant offers a great variety of Czech and World cuisine including fresh fish and ingredients from local farms and fields. We cook a different meal every day and use only fresh ingredients.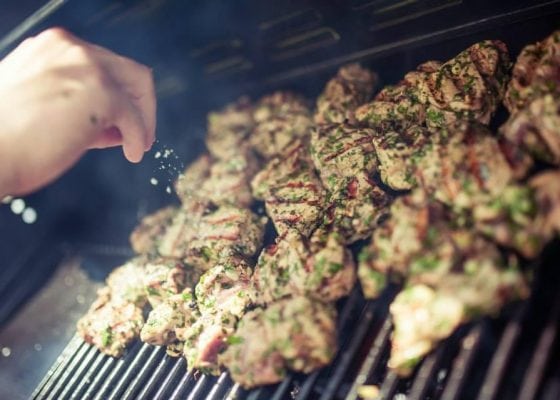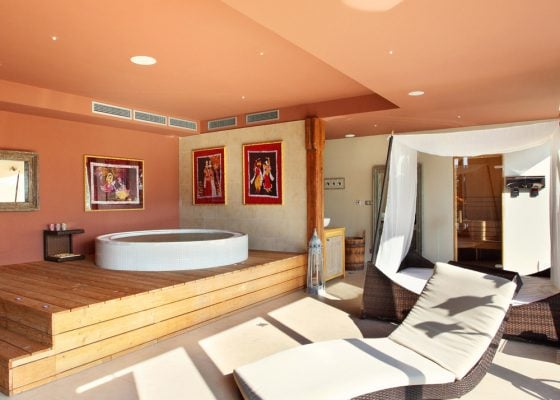 Relaxing the body and soul
Wellness
The word wellness in the name of our hotel suggests that our wellness centre is fully prepared to relax your body and soul. You can enjoy illuminated Jacuzzi with panoramic view, a steam bath, and Finnish herbal sauna with garden view and light therapy. For our most demanding guests we also offer our pleasing massages, which take the relaxation to the ultimate level.
Private and Company
Events and Weddings
Our hotel is a perfect place for organizing company events, teambuilding, smaller conferences and even private events such as weddings and variety of celebrations. We can also arrange a personalised event. The very combination of quality areas for accommodation and activities together with unique wellness and delicious cuisine suggests that your event will become unforgettable.